Fort Bend DWI Lawyer
Arrested for Drunk Driving in Fort Bend?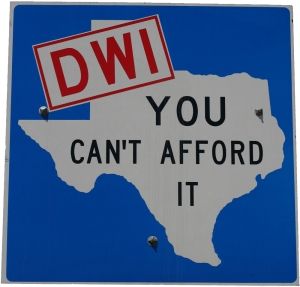 If you are facing charges for drunk driving, get a Fort Bend DWI attorney on your side. As a former state prosecutor, I recognize the severity of a drunk driving arrest, whether it is for misdemeanor DWI, felony DWI, felony intoxication assault, or felony intoxication manslaughter. I have prosecuted all of these types of cases.
Because I know how to put these cases together, I also know how to take them apart. Without proper representation, you could immediately lose your driver's license, be wrongly convicted, be subjected to expensive Department of Public Safety-imposed surcharges, and suffer a drastic increase in your automobile insurance for years to come. If you have been arrested for a DWI in Fort Bend, it is pertinent that you obtain the proper legal defense immediately.
Immediate Consequences
If you have been charged with DWI in Fort Bend or other surrounding cities, you need to be aware that the state of Texas has an administrative license revocation (ALR) process. Essentially, you have a mere 15 days to contest the automatic suspension of your driver's license, which will occur independent of any criminal proceedings. Don't wait another moment before contacting the Law Office of John L. Venza Jr. to begin the process of defending your driving privileges with our Fort Bend DWI lawyer.
If you are facing charges for a DWI, don't face your charges alone. Contact our firm today!
Background as a DWI Prosecutor
As a prosecutor, I tried dozens of DWI cases. During my tenure, I received specialized training in the examination of expert witnesses for field sobriety testing and the procedures of the Intoxilyzer machine, which police use to measure the alcohol concentration in a suspect's breath. In addition, I personally examined and cross-examined experts on blood toxicology, which is especially helpful for those cases in which the State has alleged that someone's ability is impaired due to the ingestion of drugs as opposed to the consumption of alcohol. Few defense lawyers can offer this hands-on experience and knowledge regarding the laws governing driving while intoxicated and proper law enforcement procedures.
In preparing a client's case, I take a proactive approach, similar to what I did as a prosecutor. I visit and examine the scene and photograph the exact area where the field sobriety tests occurred. Records relating to the police officer's case file and the Intoxilyzer machine are exhaustively reviewed and scrutinized for mistakes. I work to reveal those mistakes to the prosecutor and, if necessary, expose them to the jury.
Ready for Trial
My goal is to dissect the State's case, expose police errors, and force the prosecutors to lay their cards on the table. Sometimes this will result in a reduced charge, such as reckless driving or obstruction of a highway; sometimes it will result in a total dismissal of all charges against you. To vindicate your rights, we may need to have a trial by jury, which I am totally prepared for as evidenced by my winning trial record. Please know that I will move forward with your case from day one as if your case was going to trial. That means tireless preparation on my part in order to cross-examine the arresting officer on his procedures for field sobriety and Intoxilyzer testing.
In addition to my vast experience in DWI trials, I decided to go the extra mile in defense of my DWI clients by voluntarily submitting to rigorous training in the administration of the standardized field sobriety tests promulgated by the National Highway Traffic Safety Administration. During that 24-hour course, I learned exactly how to administer these tests and recognize the common mistakes that police officers make while giving these tests. At the end of the course, I was awarded a practitioner's certification, which is the same certification required of DWI enforcing peace officers. Let me use the knowledge I gained to show off my skills and put your cop through the wringer.
From my time as a prosecutor for the state of Texas, I developed good working relationships with my peers. I use that knowledge and network to negotiate the best deal possible or go forward and force the State to prove its case. I recognize that not all clients require legal services during standard business hours, so I make myself available evenings and weekends to residents in Fort Bend, Richmond, Rosenberg, Katy and the surrounding cities.
Breath Test Defense in Texas
After an officer pulls a driver over on suspicion of driving while intoxicated, they are permitted to ask the driver to submit to a breath, blood or urine test. While the driver may refuse, it will mean an automatic license suspension, which in some cases is the most profitable option. The most common of these tests involves breathing into a breathalyzer to test the blood alcohol content (BAC) level of the individual. If their BAC is at .08 percent or higher, they will most likely be arrested. Minors with .01 percent or more could be facing underage DWI charges.
This can often be an unfair assessment as these machines have the possibility of false results. Not only can an officer make a mistake when giving the test, but the machine can also malfunction and cause inaccurate readings.
There are other outside factors that can be detrimental to the driver's test results including the following:
Health Conditions - Acid reflux and gastroesophageal reflux disease (GERD) are two disorders that can influence the amount of alcohol that shows up as part of an individual's blood alcohol content level. In both of these conditions, the alcohol that is in the stomach rises up into the mouth of the individual, causing a much higher reading than is actually present. Additionally, low-carb diets, diabetes or other hypoglycemic disorders can create a substance called "ketones" which read as alcohol in the system. This can cause the breathalyzer to read the alcohol caused by these diseases in the same way that it does an alcohol beverage, when in actuality the person is completely sober.
Chemicals at Work - If the driver works with certain compounds on a daily basis such as lacquer, gas or other highly concentrated substances, they can leave trace amounts in the individual's lung tissue. When the person breathes into the device, it can pull these chemicals into the reading and alter the BAC level significantly.
It is wise that you speak with one of the best Fort Bend DWI attorneys if your breath test caused your arrest. As a competent and highly-trained representative with experience as a former prosecutor, I can work diligently to investigate your case and come up with a solid defense.
Protecting Against Field Sobriety Test Results
While considered a basic standard for measuring a person's level of sobriety, these tests are not 100 percent accurate by any means. They were never intended to determine the level of intoxication, but rather they originally created to determine if a person should be arrested for drunk driving.
Unfortunately, officers may perform these tests incorrectly, not take into account outside factors or simply be intent upon completing an arrest that they ignore the facts of the situation. According to research studies, 9 out of every 100 officer do not know how to properly conduct these tests, thereby creating significant room for error. There are three basic tests used by many law officers throughout Texas; however, each has their own flaws.
Horizontal Gaze Nystagmus (HGN) - The officer will aim to track the driver's eye movements as they move either an object or small flashlight back and forth horizontally. If their eye appears to move erratically, it is supposed to be proof that they are under the influence; however, this is somewhat subjective. Certain medications can cause eye jerkiness as well as inhalers and depressants. Additionally, some people have a hard time focusing either due to eye problems or other genetic disorders.
Walk and Turn (WAT): In general, with this test, an officer is looking to make sure that the individual can walk nine steps in a straight line. It is to test their ability to follow directions, keep their balance and not waiver in their steps. This can be difficult for people who have inner ear issues messing with their ability to balance or for those that have had recent injuries or surgery to their legs, head or other vital organs. Additionally, those on medications may not be able to focus as clearly or may stumble if they are slightly dizzy.
One Leg Stand (OLS) - While the individual is standing, they must lift one of their feet at least 6 inches above the ground and hold it for 30 seconds. The officer will look for signs of imbalance, swaying, inability to count up to thirty and other signs. The only problem with this is that many individuals have horrible balance, either caused by genetics or a bad back, muscle cramps, weight or age, among other factors. Additionally the weather can drastically affect this test, as extra wind, high heat, extreme cold, rain, snow or fog can make it hard to stand straight without wavering.
Contact our office if you have been arrested after a field sobriety test that you believe as conducted unfairly. We will gladly listen to the details of your case during your free initial consultation and are prepared to defend your case until the end. Serving Sugar Land and the rest of Fort Bend County.
Arrested for DWI? Contact me today to schedule a consultation with a Fort Bend DWI attorney.
State v. TG Case NO BILLED by Grand Jury

State v. TI DEFERRED ADJUDICATION

State v. TL DISMISSED

State v. VK DISMISSED

State v. WD DISMISSED

State v. WM REJECTED BY DISTRICT ATTORNEY, DISMISSED

State v. ZP DISMISSED

State v. AA DISMISSED

State v. AE DISMISSED

State v. AL DISMISSED
Get Your Case Dismissed
Developing the right strategy and using my connections in the legal community, I will do my best to get your case dismissed so you can move on with your life.