Arrested for Family Violence?
Call the Law Office of John L. Venza, Jr. first!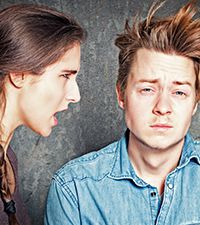 As a former prosecutor in Brazoria County, I am well-equipped to fight to prevent you from being convicted of family violence. My relationship with the D.A.'s office and with the judges results in your defense being taken seriously. Call now at (281) 971-5660!
Call my office now to receive your FREE consultation or fill out our online case evaluation form today!
Domestic assault
Domestic battery
Spousal abuse
Violation of a protective order
Assault causing bodily injury - family violence
Aggravated assault causing serious bodily injury - family violence
Aggravated assault with a deadly weapon - family violence

Fort Bend - Harshly Prosecuting Domestic Violence Cases
The courts in Fort Bend County take family violence very seriously. The district attorney's office maintains a grant-funded division dedicated exclusively to prosecuting domestic abuse cases. It has significant resources at its disposal. If you have been accused of domestic abuse, you need a Fort Bend domestic violence lawyer who is not afraid of formidable opposition and who will fight to make sure you are not wrongfully convicted of a domestic violence case.
Why hire me?
I have handled countless family violence cases, both as a prosecutor and as a criminal defense lawyer
I know the county's legal system, the people, and their tactics
I know how to approach victims in order to minimize testimony, such as highlighting instances in which victims later denied or downplayed their accusations
When you are my client, I will use every resource at my disposal to your benefit
History of Successful Cases as a Family Violence Lawyer in Fort Bend
I have been extremely successful in having family violence cases in Fort Bend County and in Brazoria County completely dismissed. There are many paths toward a dismissal. Some paths involve an affidavit of non-prosecution from the complaining witness. Others will involve you possibly taking an anger management class while your case is pending. Still others may require the relentless destruction of the complainant's credibility and the exposure of the falsity of the family violence allegations against you. Whichever path your case calls for, know that I stand ready to fight for the reduction, if not outright dismissal, of your charges. I serve clients in Sugar Land and the rest of Fort Bend County.
State v. TG Case NO BILLED by Grand Jury

State v. TI DEFERRED ADJUDICATION

State v. TL DISMISSED

State v. VK DISMISSED

State v. WD DISMISSED

State v. WM REJECTED BY DISTRICT ATTORNEY, DISMISSED

State v. ZP DISMISSED

State v. AA DISMISSED

State v. AE DISMISSED

State v. AL DISMISSED
Get Your Case Dismissed
Developing the right strategy and using my connections in the legal community, I will do my best to get your case dismissed so you can move on with your life.